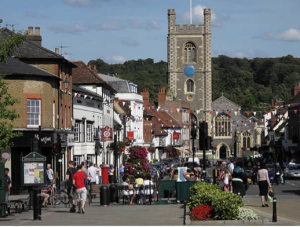 There's not long to go now until the first Henley House & Garden Show and we're all very excited.
If you're passionate about homes and gardens as much as we are, then this is a fantastic opportunity to really get to know a number of creative business owners, interior designers and horticulturalists who will be providing a wealth of information and giving fantastic advice about where you live.
The event takes place on February 28th – March 1st and is jam packed with inspiration and entertainment to promote a really thriving collaborative community. Event organiser and interior designer Niki Schäfer told The Henley Standard, "I've always said I'd like to do something for all of us and bring people in from further afield. I ran a pilot version 18 months ago in Taplow, which was successful enough to do again but I wanted it in Henley — that was key."
The event has certainly captured the imaginations of the people of Henley on Thames and there are now over 50 exhibitors of high-end interior and garden products that will be taking part in the show. In addition to this, there will be expert speakers including television presenter Julia Kendell, paint specialists Farrow and Ball, and innovative garden designer David Harber.
Niki Schäfer continues, "The show is a collaborative event with professionals, designers, retailers, businesses and residents all coming together to celebrate our love of homes and the great green room beyond."
There is much excitement in the town already and we're really looking forward to creating a memorable weekend to truly inspire stylish living. Entry to the show is absolutely free except during the Home Décor Fashion Show when you will be asked to donate to The Chiltern Centre. The show is raising funds to build a multi-sensory room at this respite centre that provides quality care for disabled children in the Thames Valley.
So for a truly unique experience in the stunning Henley Town Hall and Market Place (as well as various galleries and showrooms) discover beautiful interiors, garden and decorative accessories, striking fashion pieces alongside creative workshops. And if that's not enough to whet your appetite, we also have some cooking demos by some amazing professional chefs.
To find out more, please visit: https://www.thehenleyhousegardenshow.com