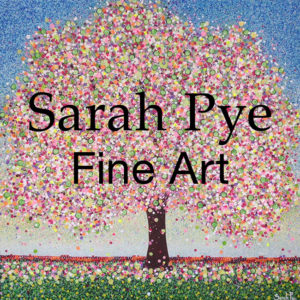 Henley House & Garden Show 2019
Meet artist Sarah Pye. With only 4 months to go until the Henley House & Garden Show we'd like to introduce some of our wonderful suppliers who are going to be exhibiting.
Sarah Pye Artist
Kicking off with Sarah Pye Fine Art, a local artist who produces stunning contemporary impressionist style works of art, Sarah takes inspiration from the beautiful woodlands that surround Henley as well as wild flower meadows and the sea.
Watch Sarah in action here and you'll see how she drops the acrylic paints onto the canvas from a height to create the droplet effect. Her compositions are made up of many layers. It really is quite mesmerising to watch!
https://www.youtube.com/watch?v=s-jLAR_pHXU&app=desktop
Her pieces capture the range of seasons we are lucky to experience here in England. Every season brings its own inspiration for Sarah but Autumn is probably one of her favourites.
Sarah says 'The opportunity to plunge boldly into my rich reds, oranges and gold pots of paint with pallet knives and brushes flaying is undeniable!'
I for one could see her painting Autumn Dawn on my wall. And Autumn Glow certainly gets us excited about a Sunday afternoon walk.
A piece of art can inspire an entire interior scheme. And putting it up makes a room complete. So if your space is missing something, then it could well be a piece of art.
Visit www.sarahsart.co.uk to see a full gallery
Visit the Henley House & Garden Show
Sarah's art work will be on show on the 2nd and 3rd March at the Henley House & Garden Show 2019 where you'll find a wealth of talented suppliers and crafts people for your home and garden.
Exhibit at the Henley House & Garden Show
Contact Niki Schafer or Sarah McLean if you are interested in exhibiting: niki@nsid.co.uk, Sarah@nsid.co.uk
Put the Henley House & Garden Show dates in your diary: 2nd & 3rd March 2019